In August 2017, a group of young changemakers from across western Canada came together in the traditional Tahltan Nation fishing camp in northern B.C. to ask: what will the next 150 years of Canada look like? We learned on the land about colonization, indigenous culture, reconciliation, and how to take this important work forward in our personal and professional lives.
CAMP LIFE
I woke up with the orange glow of sunlight coming through my tent: it was going to be another hot day by the rushing Stikine and Tahltan rivers. Getting ready for this one of a kind "conference" with swimsuit under my shorts, hiking boots on, and a notebook and pen, I eagerly emerged from the tent with an open mind: the theme was reconciliation, the setting sacred, and I was over a thousand kilometres north of the cafe where you'd normally find me on a weekday working at my laptop (no cappuccinos here! Or wifi, or cell service, for that matter...). All I needed to do to prepare for the day was remain humble and ready to learn, and maybe help out with breakfast.
ORIGIN STORY
Curtis Rattray, a member of the Crow clan and Nalokoteen (end of the ridge nation) of the Tahltan Nation, brings his skills in leadership development and knowledge of Canadian history and indigenous culture to Groundswell through workshops, talks, and film screenings, whenever he visits Vancouver. Back at home in and around Dease Lake, Curtis guides groups of youth and professionals out on the land to learn about themselves and gain leadership skills in remote environments, where being out of your comfort zone can push you to discover new things about yourself, and connect with others in novel ways.
Conversations between him and our community at Groundswell got us thinking: how can Curtis's skills for on the land education be applied to a theme that one might encounter in a typical conference style setting, for a whole different learning experience? We decided to embark on this experiment together and focus on the theme of reconciliation. So this August, with the support of a Canada 150 grant, we held the first On the Land Indigenous Gathering. A group of young settler and indigenous changemakers from across western Canada came together on Tahtlan territory to learn from each other, the land, and the local community, exploring their personal relationship to indigenous history and the work and meaning of reconciliation. Utmost gratitude - meduh - to our hosts Elder Nancy McGee, Darian Dennis, Curtis Rattray, Huey Carlick, and other members of the Tahltan Nation for sharing their land and teachings with us.
WHY ARE WE HERE?
This year the Confederation of Canada is 150 years old. This milestone and it's fanfare is an uncomfortable one, as we know important and relevant history - culture, people, events, experiences - has been in the making on this land since time immemorial. 150 years is a tiny blip on the timeline of human history in Canada but it is a huge upheaval of culture here, and we fear losing the deep knowledge that exists here in the traditions of the indigenous nations of Turtle Island.
"We are not in an environmental crisis, we are in a social crisis." And so began our first learning circle under the dappled shade of trees just off the river's sand bar . We came to realize that we have all been colonized in some place and time in our history, in our ancestry, and that we must decolonize ourselves before being able to tackle the relationship between Canada and Indigenous Nations. It can seem so overwhelming, as Kaela states in the video:
What brought me to this Gathering was the opportunity to learn what reconciliation might look like on an individual level. I strongly agree with the principles of reconciliation, but I sometimes find that it's very theoretical and high level. It feels like it's something that's out of my grasp and that I can't help with, because I don't necessarily have a big job, I don't have a lot of power, I can't just remake the laws of Canada.
In our circle, we asked each other: why are we here? We were seeking ways to decolonize relationships, explore our personal history, get away from academia and closer to the land, figure out what decolonization looks like for settlers, and learn from each other. So what did we learn?
I have learned more about my own integrity as being an indigenous person and being able to connect with others that have a different perspective of Canada, themselves, and culture.

I learned a lot about myself and my own reactions to different types of discussion and topics of discussion. Most importantly I got to hear multiple perspectives on decolonization and reconciliation, which is something we don't hear, or discuss, nearly enough.
I was privileged to be a part of important conversations about the realities of Northern youth, and community members' ideas on providing opportunities for youth to experience new realities. We touched on the importance between being welcomed and invited into communities and offering support in their initiatives if it is needed. We talked about encouraging youth to step outside of their comfort zones and building the confidence that they hold within themselves. Find the link to the rest of Zoe's blog post below.
To learn from stories – stories about and from the land as well as our own personal stories and the stories of others. These stories can teach us how to walk with each other and this earth. I felt more comfortable in Tahltan than I do in a lot of other places. It was natural and peaceful and powerful to be by the rivers with the arms of Tsesk'iya Cho seemingly embracing and looking over us. I left feeling more ready to dig into the work ahead and I am grateful for that. Meduh for having me! I hope to be back someday.
WHOLISTIC LEARNING
Why spell it like a hole in the ground if it means exactly the opposite: whole! - Curtis Rattray
The afternoons are too hot for learning circles, so we find other ways to pass the time. Some participants learn to bead with Darian in the shade of the cook house, and many are by the river taking advantage of the hottest part of the day to swim in the cold, cold river. A big group is building the sweat lodge with Huey and have gone back into the bush to get more willow branches. The fishing nets are in place (how many settlers does it take to cast a net?) and we're hoping to catch a few salmon for dinner, even though the Klee dot tu (dog's tear drop) leaves are starting to turn bright yellow, indicating that it's time to leave the river and head up the mountains to hunt. A few of us hop in the truck to go on a drinking water run. Towards Telegraph Creek and up the winding gravel road, a clean, clear creek has been outfitted with a hose so that anyone can fill up their water vessels with ease. Along the way, stories continue to be told and we share our personal experiences. Lisa and Curtis are in the front seat chatting and finding out where their family traditions overlap, and I listen with curiosity, wondering which of my family traditions are found in the lives of others, and what common story they might have originated from.
The conversations ebbed and flowed between the person and political. To reconcile historic injustices, indigenous sovereignty must be restored as we move through the work of exposing the truth and healing the intergenerational wounds of colonization. This won't happen quickly, so we imagined each act of colonization being undone over the next 150 years, like looking forward into a mirror reflecting the past, until there is indigenous sovereignty. Because right now sovereignty is not referred to in the Canadian state. Instead, indigenous peoples are given rights and title, an undefined, empty legal and political box that falls far short of sovereignty: true sovereignty includes the ability for a nation to make and enforce their own laws and operate their own political systems. Exploring the significance of this not so nuanced use of language by the Canadian government brought us to an even more difficult question: can two sovereignties exist in one place and time? Curtis did not expect us to answer it, and instead we pondered these weighty concepts and theories, our booted feet grounding us in the rocky river bed.
The sun's down and we're in camp for a late night learning circle. The group is gathered around the light of our headlamps which is focused on a hand drawn map, one of many referred to over the course of this Gathering. This reminds me of something I heard once: if it's difficult to answer "who are you?", start with answering "where are you?". Our first responsibility in our work towards reconciliation and as residents on unceded land, is to educate ourselves about the places, peoples and history of where we live, connect, and create.
Connect with your local indigenous nations at: https://fnbc.info/directories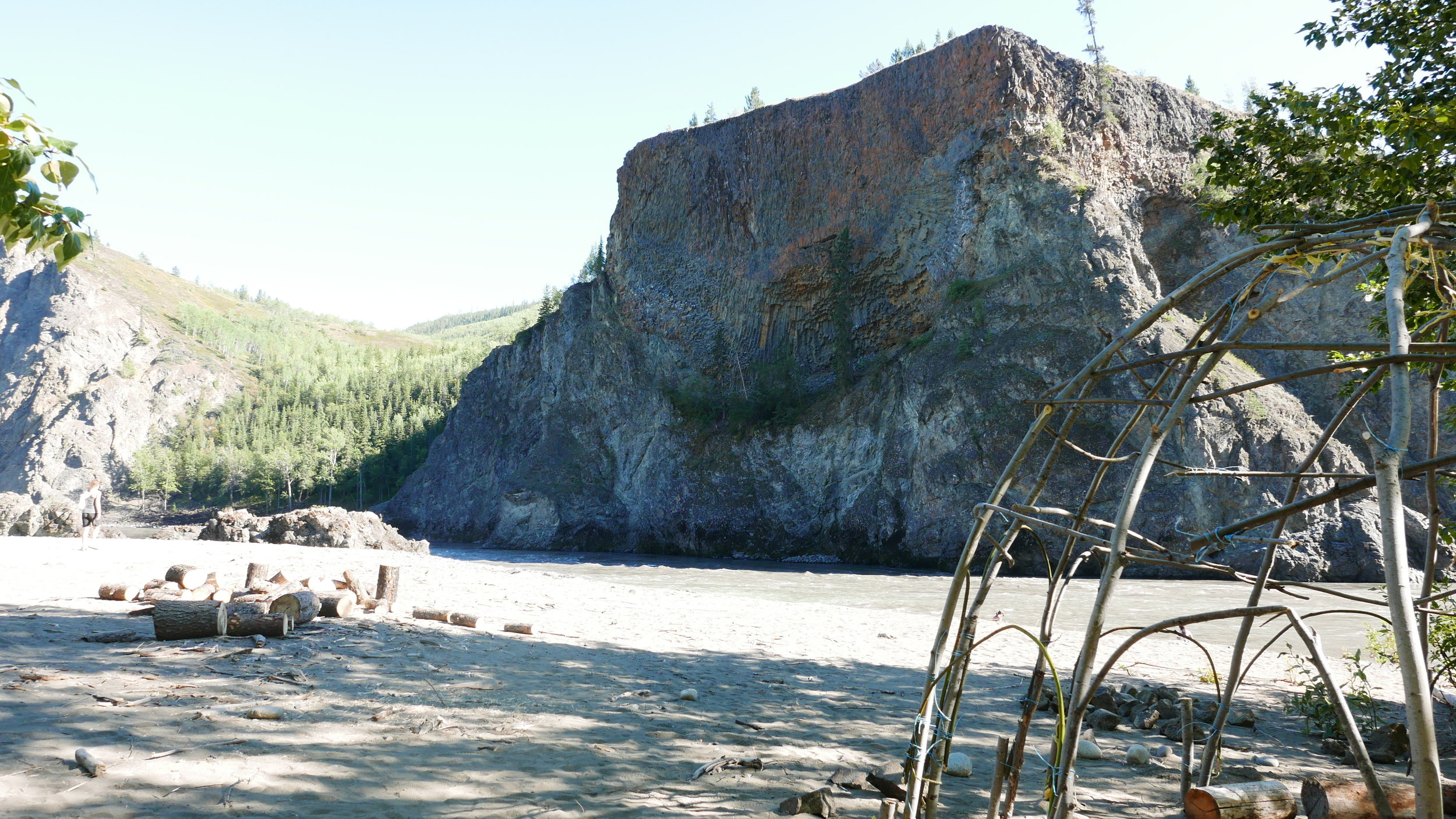 We are planning a follow up event in Vancouver!
Sign up to hear about this and other news from the Groundswell community.
Read a participant's perspective: Exploring Reconciliation On the Land by Zoé Bordeleau-Cass, from Whitehorse, Yukon.
The 2017 On the Land Indigenous Gathering was organized by Groundswell Education Society and Curtis Rattray of Edziza Trails/W.I.L.D. (Wholistic Indigeneous Leadership Development)
The project is supported by the Tahltan Band Council.
We acknowledge the financial support of the Government of Canada.
Nous reconnaissons l'appui financier du gouvernement du Canada.